Yonkers Dentist Dr. Johnathan Gorman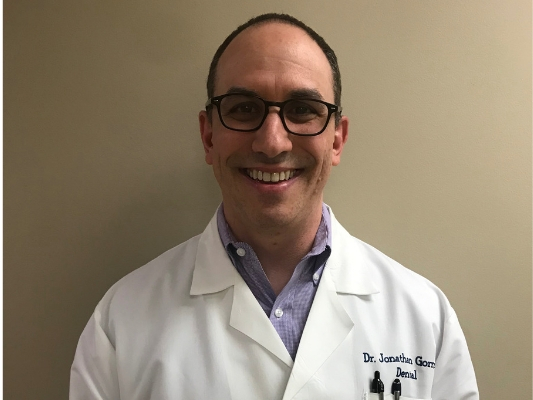 Dr. Jonathan H. Gorman, DDS is a dentist located in Yonkers, NY. In addition to preventative care and cosmetic dental treatments, we also offer dental implants, sleep apnea treatment, and anti-snoring devices. Dr. Gorman and his team look forward to meeting with you and helping you maintain or achieve your oral health goals.
Click here to learn more about Dr. Gorman.
Dental Services
Relaxation/Sedation Dentistry
Cosmetic Dentistry
Routine Cleanings and Exams
Tooth Colored Fillings
Metal Free Crowns and Bridges
Dentures and Partials
Dental Implants
Dental Implant Retained Dentures
Invisalign
Extractions
Periodontal Treatment
Sleep Apnea Treatment
Anti-snore Devices
Teeth Whitening
and more…
Office Hours
Monday: 8:30am-6:30pm
Tuesday: 8:30am-6:30pm
Wednesday: 8:30am-12:30pm
Friday: 8:30am-2:00pm
Saturday: 8:30am-12:30pm
Office Location
Jonathan H. Gorman, DDS
984 North Broadway Suite 504
Yonkers, NY 10701
Phone
914-963-1460
Payment Plans
We believe all Yonkers patients should have access to exceptional dental care at an affordable price. We accept most major dental plans and we are in-network with many providers.
https://www.yelp.com/biz/jonathan-h-gorman-dds-yonkers-2
https://about.me/drjonathanhgormandds
https://dr-jonathan-h-gorman-dds.tumblr.com/
https://medicalevents.com/organizer/jonathan-h-gorman-dds
https://www.healthjobsnationwide.com/company/jonathan-h-gorman-dds
https://www.docshop.com/business/69195
Keywords: dentist, cosmetic dentist, dental implant dentist, periodontist, general dentist, dentist Yonkers, Yonkers NY dentist, dental office in Yonkers, dental implants, teeth whitening, implant supported dentures, Invisalign, clear braces, single tooth implant, dental anxiety, ouchless dentist, pain-free dentistry NY Yonkers, sedation dentist, sedation dentistry, nitrous oxide, fear of dentist, sleep apnea devices, dentist snoring treatment Yonkers NY, tooth pulled Yonkers, extractions, missing teeth, teeth replacement Yonkers NY, dentures, partial dentures, dental implant retained dentures, best dentist Yonkers, metal free dentistry, metal free dental crowns, dental exams, dental appointment Yonkers, teeth cleaning, relaxation dentistry, North Broadway Yonkers dental office